Download details
Download Midi Cleaner
Midi and Audio Clean Utility FREE
(No Warranty is implied with this application suitability for your specific needs, you use this utility entirely at your own risk).
This utility shoulld aid in removing redundent midi instances in the registry of Windows System, If you are a user of Windows 7/8/8.1/10 64Bit, and have the dreaded issue of no Midi Data being transmitted or received even though your midi device is detected this utility can create or re-create the most common registry entry that causes this.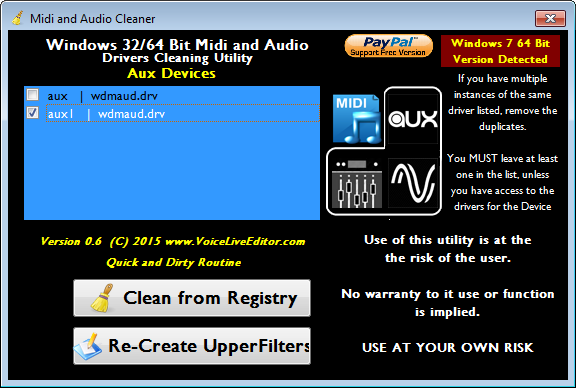 The Utility has been updated to also allow removing of duplicates Mixer/AUX and WAVE Drivers. It has been found on some systems that have duplicate entries installed sometimes this can cause Odd audio behaviour/output. if you click on the Aux and remove any duplicates, then click Mixer and remove duplicates and then the WAVE and do the same. After a reboot this may help in fixing it.
License
VoiceLiveEditor Licence

All updates are FREE.
You just install the new version over your existing installation.